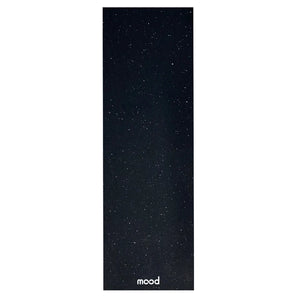 Mood Yoga
 74" x 24" x 5mm
Our first collaboration with our first company @LavaRubber.  The moodmats name and project came from a Lava Rubber doormat that read "Welcome" on one side and "Fuck Off" on the other.  I used to say "Flip it to whatever mood you are in! It's our moodmat."  
Made from 98% : recycled wetsuits, gaskets, weather stripping, compressions sleeves, aluminum juice pouches & yoga pants. Each mat saves 5lbs of "waste" from entering a landfill.
* All mats will have RANDOM SPECKLING.  No two look the same . . . 
Our upcycled mats save useable rubber from entering a landfill. We are Earth's original neoprene upcycling company. We take everything from wetsuits, gaskets, weatherstripping, wheelchair seat molds, stock car tires, and plenty more "clean" donations to make up what we call "LAVA RUBBER". As we cut our shapes, we reprocess over two tons of material every month. Keeping this material out of landfills has been our priority since sesh one. In turn, Mother Nature cosmically hooks us up with conscious customers like yourself. All scrap donations are privately collected. All moodmats are recycled and finished in NJ, U.S.A.  We bring to you the highest quality Earth friendly mats on the planet. Enjoy! Much LOVE, moodmats