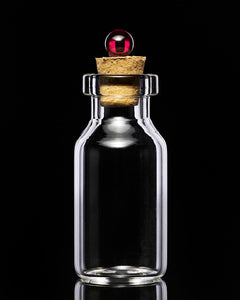 The #1 Banger Add-on:

Instantly add extra bling to any setup with the Ruby Terp Pearl. Not only does it add more heat retention, the terp pearl will spin within the banger when using a directional bubble cap. When the pearl is in full motion it will be sure to turn heads at any sesh.

NOTHING GOES TO WASTE:
The heat retention of the ruby pearl adds an additional element into the mix. When paired with a bubble cap, the spinning pearl is even more effective.
STRONG AND DURABLE:
Short of being a diamond, ruby is one of the hardest materials known to man. Ruby rates at a 9 on the Mohs hardness scale; while diamond rates at a 10. The ruby terp pearl can withstand extreme temperatures and will continue to function as great as day one.
DETAILS:
100% Ruby Sphere
5mm Diameter
Works with All Bangers and E-rigs
100% AMERICAN MADE PRODUCT!
Manufactured in Philadelphia, Pennsylvania. Everything from Evan Shore is crafted with precision, and each product goes through several levels of quality control to ensure every banger is absolutely perfect. All products are produced using the highest quality borosilicate glass available.