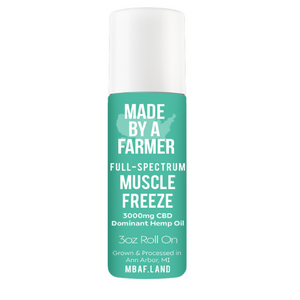 3000mg CBD Full Spec.
3oz Roll on
Fight nagging aches and pains with MBAF roll-on Full Spectrum Muscle Freeze! An infusion of 3000mg of CBD-dominant full-spectrum hemp oil helps your muscles relax so that they may recover faster.
Best For
Quick musculoskeletal pain relief.
Tight muscles, enflamed joints.
All Products contain 0.3% THC or less. Cannabidiol (CBD) is a natural constituent of industrial hemp. Our products are not intended to diagnose, treat, cure, or prevent any disease.